LRC Coat™ – Self Cleaning Coating Formula REPELS FROST
Anti-microbial coil coating actively kills harmful biofilm growth that can lead to airflow contamination.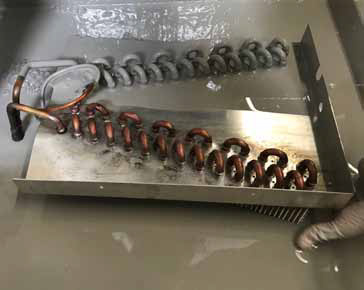 Environmentally Friendly and Less Expensive LRC Coat™ Protective Coating –  
Dipped/baked, self etching, water based epoxy

Cures quickly – NO ADDITIONAL BUILD LEADTIME

Environmentally friendly" high performance resin

Less expensive than solvent based products

No Impact on heat transfer or air flow

Meets FDA/NSF requirements for indirect food applications
 Don't let your equipment corrode in harsh environments. Call LRC Coil today.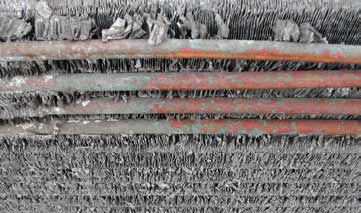 Why You Should Recommend LRC Coating Products To Your Customers:
 

Stabilizes installed HVAC systems that have been degraded by corrosion, which delays equipment replacement costs

Coated units are "self cleaning" due to hydrophobic formula which causes moisture/condensate run-off

"Self cleaning" coils reduce pressure drop due to contamination and corrosion

Anti-microbial additive kills algae/bacteria which helps maintain clean building air

Increases equipment life with minimal maintenance

Water based cleaners and coatings are safe, non toxic and low volatile organic compounds (VOCs)
 Hydrophobic (Water Repelling) Protection System 
 

Leaking wine corks can corrode copper. With LRC Coat™ Protective Coating, coils in wine units are guaranteed to last longer.

LRC Coat™ will eliminate mold and harmful bacteria to help maintain healthy air inside of the building.
Contact Info
LRC Coating™ – Self Cleaning Coating Formula REPELS FROST Anti-microbial coil coating actively kills harmful biofilm growth that can lead to airflow contamination
Environmentally Friendly and Less Expensive LRC Coat™ Protective Coating – • Dipped/baked, self etching, water based epoxy • Cures quickly – NO ADDITIONAL BUILD LEADTIME • "Environmentally friendly" high performance resin • Less expensive than solvent based products • No Impact on heat transfer or air flow • Meets FDA/NSF requirements for indirect food applications