SIZING CONDENSER TO EVAPORATOR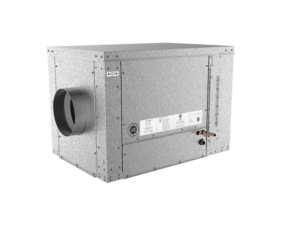 MANY TIMES WE GET THE QUESTIONS, "HOW DO YOU SIZE THE CONDENSER WITH YOUR EVAPORATOR?".
HERE ARE SOME HELPFUL GUIDELINES WHEN SIZING.
SELECT CONDENSING UNIT WITH A LOWER CAPACITY THAN THE EVAPORATOR    ( 90% to 100% OF EVAPORATOR )
DESIGN POINT - 38° SST (USE 40°F FOR SIZING PURPOSES) IF RUNNING ROOM AT 55° 
GOLDILOCKS TYPE OF CONDITIONS

USE A GOOD AVERAGE TEMPERATURE  NOT WORST CASE SCENARIO   
ON HOT DAYS JUST LET THE SYSTEM RUN A LITTLE LONGER FOR THE OUT OF BOUNDS CONDITIONS

ROOMS ARE SIZED FOR 16 HOUR RUN DAY

LOAD ON EVAPORATOR IS CONSTANT- ITS THE CONDENSING UNIT THAT NEEDS TO RUN A LITTLE LONGER
SIZE TO A REASONABLE AMBIENT TEMPERATURE

IS IT INSIDE?
IS IT OUTSIDE?
EXAMPLES

SAN DIEGO- SIZE FOR 80° NOT 110°
PALM SPRINGS- SIZE FOR 100° OR SO AND LET IT RUN LONGER ON THE HOTTEST TIMES OF THE YEAR

PUT A FAN CYCLING SWITCH ON THE CU TO KEEP THE HEAD PRESSURE UP TO 80° OR BETTER AMBIENT CONDITIONS TO PROTECT DURING LOW AMBIENT TIMES.
CONDENSING UNIT SHOULD HAVE A SUCTION ACCUMULATOR
SO TO SUM IT ALL UP: SIZE AT A SLIGHTLY LOWER LOAD THAN WHAT THE ROOM IS, AT A PLUS 40° SST, AT A REASONABLE AMBIENT TEMPERATURE.